Hi Rolly,
Thank you for joining the Forum.
quote:

Originally posted by rwagas80:
Hi, I am new to this forum. I purchased L1 MODEL II with two subs for my live performance in parties, weddings, events, as a one man band (backing tracks). My mixer is TASCAM with mono output, TC-HELICON harmony GXT for my vocals, washburn acoustic guitar, ltd electric guitar, harmonica, recorder flute.

Thank you for all the information. That's a lot of sound for one fellow.
quote:



I play jazz and blues, folk, during dinner and cocktail with no problem, but for my ballroom tunes (island beat, santana, tropical, swing, rock n roll 60's) plus dj music for filler, I can not get the required bass response to satisfy me and the audience (100-250). I am planning to buy additional sub. Which would I choose? 2 bose subs which will only give addtional 250 watts or the new "EV ZXA1-Sub Compact Lightweight 12" which will give 700 watts sub power and only 46 lbs and 50% lower price comparing to bose subs.

It's not always meaningful to compare wattage for different devices (loudspeakers) as this is (usually) a measure of the power going into the loudspeaker, not a measure of what comes out. In this case the ratings you mention are for the amplifier output, not a measure of the actual sound produced by the loudspeaker.
quote:


My only concern for EV sub if it will perfectly work with the external sub out from L1 systems. Thanks!
Perfectly - no. The only thing that will work perfectly is the system that Bose created to work with the L1®. There, you have a perfect match for the gain staging, power, loudspeaker characteristics, designed from the ground up, in the Cylindrical Radiator®s, the Power Stand, the PackLite Amp, and of course, the B1s.
Looking at the
EV ZXA1-Sub web page
we can see that the Frequency Range (-10dB) is 44Hz - 118 Hz. The B1 Frequency Range (-3dB) is 40 - 180 Hz. (upper frequency determined by the crossover in the Model II Power Stand). If we go by the specifications alone, one could guess that at -44Hz, the ZXA1-Sub output is less than half the rated output (-10dB) and the B1 would be closer to three quarters (-3dB) of the rated output.
Now we could go on for hours about how this
might
sound, in terms of perceivable differences in volume, and I don't think that discussion would get you any closer to an answer. But even if everything thing else were the same (EQ curve, speaker efficiency, and more), and they are not, the difference between 200 and 300 watts input wouldn't very much in terms of absolute volume. Besides, you would have to be running both systems at full power to get to that point. How often do you run any system at 100%.
As a matter of interest the B1s go down to 32 Hz at -10 dB. (
references
). So that introduces another layer to the discussion in terms of how much usable sound your audience could perceive and appreciate at that frequency.
So back to the question of a perfect match: If you want to have the same spectral balance of sound across the frequency range as you have now... only louder - this is exactly what the A1 PackLite Extended Bass system is designed to do.
quote:

Originally posted by Hilmar-at-Bose:

The behavior of the bass line out and B1 Bass Module outputs on the L1® Classic / L1® Model I / L1® Model II are based on the philosophy that adding B1 Bass Modules should give the user more dynamic range (can play louder) but should not alter the tone of the instrument, including tone adjustments made using the R1 Remote, the T1 ToneMatch® Audio Engine or other tone-shaping equipment.

This philosophy is notably different from other manufacturers, who take the approach that it's okay (or desirable) that adding more bass speakers causes the instrument tone to become "bassier".

With this philosophy in mind, here is how the bass line out and B1 outputs work. ...

more
If you want more bass without raising the relative level of the sound above 180 Hz, (sound from the Cylindrical Radiator®s) then you can try a third-party sub.
Note: If you do want MORE bass at the same volume out of the Cylindrical Radiator®s, then you probably want to run the sub directly off the mixer so that it is NOT running through the Power Stand (with it's built-in tailoring for the B1 EQ, and attenuating the output of the B1s). See
Bass Line Out
for more details.
You also would NOT want to put a jack plug into the Bass Line Out while running the sub from the mixer. Doing that will cause the Power Stand to reduce the output of the B1s attached to the Power Stand. While that makes sense if you are trying to maintain the overall balance of the sound, it doesn't serve you if you are trying to emphasize the bass.
We have an article that addressess many of these points all in one place:
I Need More Bass
Does that help?
PS - if you purchase the
PackLite® Extended Bass Package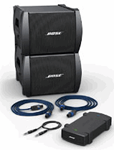 (PackLite® amp + two B1 Bass Modules) directly from Bose you have 45 days to check it out. And if you are not satisfied that it meets your needs, you can return it.
.. from Bose
Returning an order
Satisfaction is guaranteed on all Bose® products purchased by consumers directly from Bose. We want you to be thrilled, so if you're not satisfied with your purchase for any reason, simply return it within the 30-day* trial period for a full refund.
*45 days for L1® systems.
— Source -
Bose Returns
If you are looking to purchase a system through an authorized Bose dealer, please consult with them regarding their return policy.
edit: grammar
This message has been edited. Last edited by: ST,