Hi dTouch,
I think I know what's going on here.
quote:

Originally posted by dTouch:
Gee thanks. First I'm not connected to the power stand, I'm using the T1 power supply cable.

2. Version:
DSP FIRMWARE: 1.8
BOSE PRESETS: AUDIX M
BOSE SCENES: 1.0

If T1 is connected to the L1 will change the menu? Once again, thanks for the help.
You have the Audix Presets installed in the main bank (second from the top).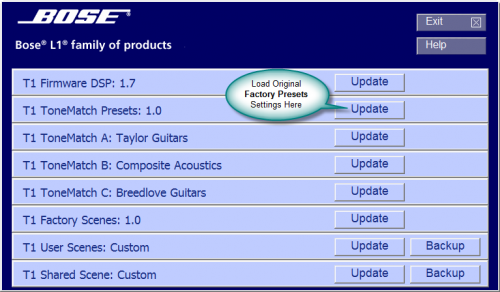 You need to reload the factory presets into THAT location.
Here is the zip file that contains the factory presets.
Factory Presets
In that zip file you will see:
Bose_T1_Presets_10.bos
Put that file someplace easy to find (ideally the same folder that you put the L1® Updater software).
Run the L1® Updater software (as pictured above).
Click the second button (green arrow).
Locate the
Bose_T1_Presets_10.bos
file and do the update.
That should do it. I think you have been reinstalling the Audix preset not the Bose Factory Presets.